I've made ​​a list of things that annoy me.
Today something different again !
No. 1, The fake uggs.
Uh-oh, I hate them.
Some girls can not walk normally.
They walk beside their shoes.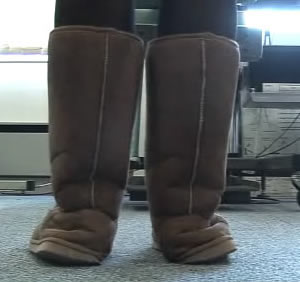 Shaking my head.
Number 2, Ugly nails.
gnawed nails.
I think its só nasty.
I had a boy in my class last year, he even tried to bite off his toenails. I heard people with a lot of stress bite their nails ! I can not judge, but it looks dirty.
Number 3, When I miss the bus or train.
Self I travel every day, about forty-five minutes by bus so I really hate this.
It's a rainy day, you've overslept and you run to the station, you miss the bus / train. & Everyone at the station is watching you. - Oh, shameful.
Number four. 'Congratulations you have won an ipad / iphone / car, laptop / television or $ 1,000,000. !
Or stupid mails or ads on the internet with ; Free headphones, win free 50 Euro, Win a trip to Ibiza. , Sign up now and win a free Porsche, I've never joined, but it sounds very fake.
And number 5 , the last one.
People who thinks they know everything better, even if it's wrong.
grr.
And what are yours ? leave a message i follow back thanks !